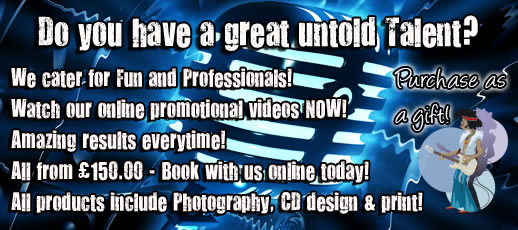 | | |
| --- | --- |
| | Do you know someone who is passionate about singing or playing an instrument? |
| | Why not treat yourself or a loved one to a special gift today! |
| | Record any song(s) of your choice, get your own professionally produced CD mixed and mastered by us. |
| | Gain full exclusive use of our recording and photography studio, have your picture taken and we'll design and print a CD and inlay to complete your experience. |
| | Whether you sing at the karaoke, are a retired performer, or simply a budding superstar! |

This text will be replaced by the flash music player.